ISHIKAWA WIRE NETTING Co.,Ltd has been certified as an Eco-Forward business by Tokyo's Arakawa Ward for accomplishments toward Sustainable Development Goals (SDGs).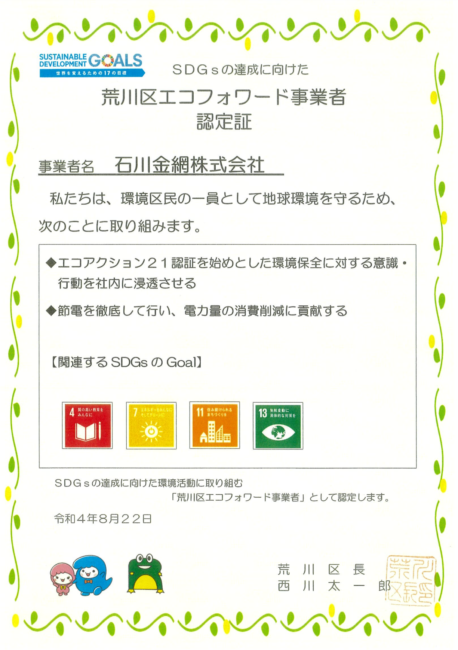 Sustainable Development Goals were outlined and selected at a summit held by the United Nations in September of 2015. The foundational concept behind these goals is to "Leave no one behind," and there are 17 goals that each participating country is set to achieve by 2030.
Arakawa Ward's "Eco-Forward" certification for businesses is used to promote environmentally conscious actions, which are a crucial initiative for SDGs.
Now ISHIKAWA WIRE NETTING Co.,Ltd has recently been certified as an Eco-Forward business.
ISHIKAWA WIRE NETTING Co.,Ltd is currently engaged in environmental conservation efforts, including an "Eco Action 21" certification. With efforts like this, we are working to raise awareness and promote actions for environmental conservation that permeate throughout our company.
Additionally, we are taking a thorough approach toward using less electricity to help contribute to a reduction in electric energy usage.
With this recent certification as a source of inspiration, and as citizens of our local ward and the environment here, we will continue to actively take part in efforts that protect the environment on a global scale.