ISHIKAWA WIRE NETTING Co., Ltd. will present a Wire Mesh Origami [Fabric Metals ORIAMI]® workshop for kids at Tsunagaru Ichi, which will be held on Saturday, July 23rd and Sunday, July 24th in the MUJI store in Kinshicho Parco.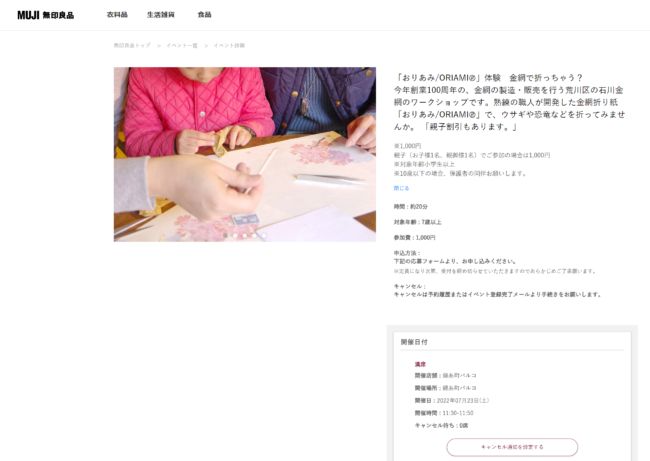 Tsunagaru Ichi is based on the concept of "a place where lots of people and goods come and go, a market that we all nurture into being" and aims to encourage MUJI stores across the country to come up with their own projects and interact with the local community.
Kinshicho Parco store will be holding its first ever summer holiday special Workshop Zanmai event. ISHIKAWA WIRE NETTING Co., Ltd. will be taking part as a member of Higashi Tokyo Monozukuri Shotengai, a group formed by manufacturing companies in eastern Tokyo. Our workshop is titled [Fabric Metals ORIAMI]® Experience. Try making ORIAMI? ORIAMI is a material that came into being from the playful spirit of skilled wire mesh craftsmen. As its shape is just like that of origami, it's easy for anyone to make an ORIAMI work. For this event, we will be using ORIAMI to make rabbits and dinosaurs, working with children aged elementary school age and above.
We invite you to come create some summer memories as a part of your shopping trip.
You can also make a reservation from the MUJI passport app.
Some time slots are already full. Be sure to book early!
MUJI Kinshicho Parco store Tsunagaru Ichi overview
-----------------------------------------------------------------------
Date: Saturday, July 23rd, 2022 and Sunday, July 24th, 2022 11:00 a.m.–5:00 p.m.
Location: In the MUJI store in Kinshicho Parco
4F, Kinshicho Parco,
4-27-14 Kotobashi, Sumida City, Tokyo
1300022
Participation fee: Y1,000 *Parent & child discount: Y1,000 yen for 1 parent accompanied by 1 child
Time: about 20 minutes
Target age: 7 years of age and above (elementary school students and above)
Reservation method: MUJI website or MUJI passport app