The company president will take part in an online seminar (streamed on YouTube) organized by the Tokyo Chamber of Commerce and Industry—Dec 6th, 2021 (Mon) to Dec 27th, 2021 (Mon).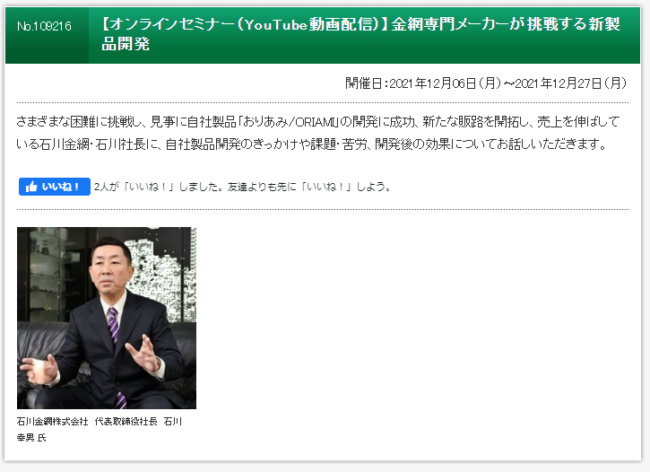 Past speeches were made at a meeting hall, but in light of the measures against the spread of the new coronavirus, this time it will be online seminar.
The subject of the speech is "A wire mesh manufacturer undertakes to develop a new product: Wire Mesh Origami [Fabric Metals ORIAMI]®—from development to sales."
Long established as a wire mesh manufacturer, ISHIKAWA WIRE NETTING Co.,Ltd developed wire mesh woven origami [Fabric Metals ORIAMI]®, a world first. There were many obstacles on the path to developing the company's first BtoC product.
In this appearance, the company president talks about the impetus for developing his products, the issues and difficulties he faced, and the benefits that came about.
The seminar is only available on YouTube. When you register for it, you will be sent a URL for viewing the seminar video, and this will be effective for three working days.
The video will be viewable until Dec 27th (Mon).
While limited to members, it can be watched for free. We look forward to your registration!
Please register here >>
https://event.tokyo-cci.or.jp/event_detail-109216.html
The company president prepared for the talk with considerable enthusiasm! We hope you will give it a watch.