The 35th World Genius Convention was held on October 7th (Thurs.), 2021, at the Tokyo International Forum.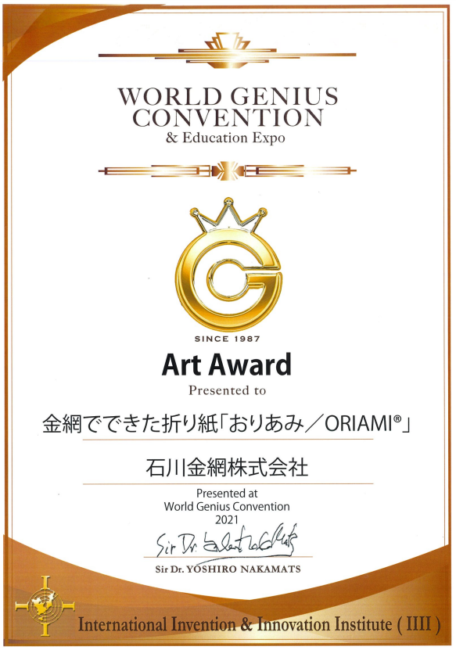 The event is sponsored by the International Invention Association, whose chair is Professor Yoshiro Nakamatsu, known as "Doctor Nakamatsu." Geniuses and businesses from the whole world gather at the event, which exhibits new inventions, new products, and artworks.
As for ISHIKAWA WIRE NETTING Co., Ltd., President Ishikawa made a presentation, displaying Wire Mesh Origami[Fabric Metals ORIAMI]®.
A judging result was that, wow, Fabric Metals ORIAMI® won the Art Award!
Fabric Metals ORIAMI® is the world's first origami made from wire mesh, which ISHIKAWA WIRE NETTING Co., Ltd. developed. It is woven with thin metal into the shape of sheets. By folding it like origami, you can create artworks, accessories for metal fixtures, and miscellaneous goods for interiors.
It has the feel of dignity like metal. And since it has high durability, it is possible to maintain it semi-permanently.
You can purchase Fabric Metals ORIAMI® through Yahoo Shopping. >> :
https://store.shopping.yahoo.co.jp/ikk-oriami/28bea6c9ca.html#sideNaviItems
We received a medal in addition to a certificate. The medal has a dignified construction and is heavy.
In addition, the event was packed with inventions that made you sense abundant talent. It was very stimulating.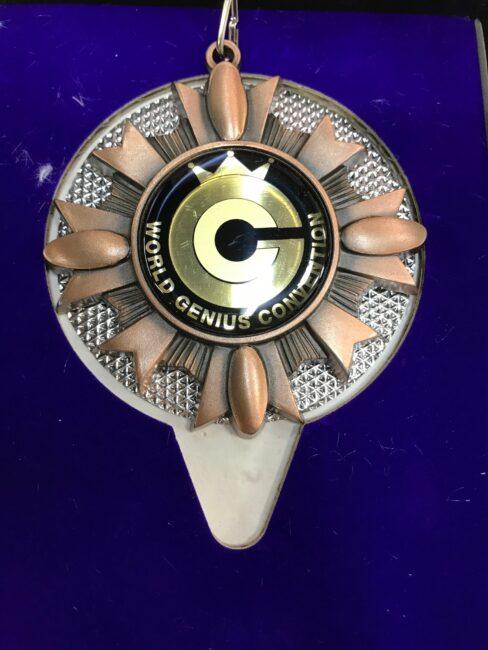 To be able to receive an award like this is quite an honor!
But we will not satisfy ourselves with this award. We will continue to strive actively to develop new products.