ISHIKAWA WIRE NETTING Co. Ltd. has been introduced in "GLOBAL EDGE" No.67, the PR magazine by J-POWER, who are engaged in the power generation business.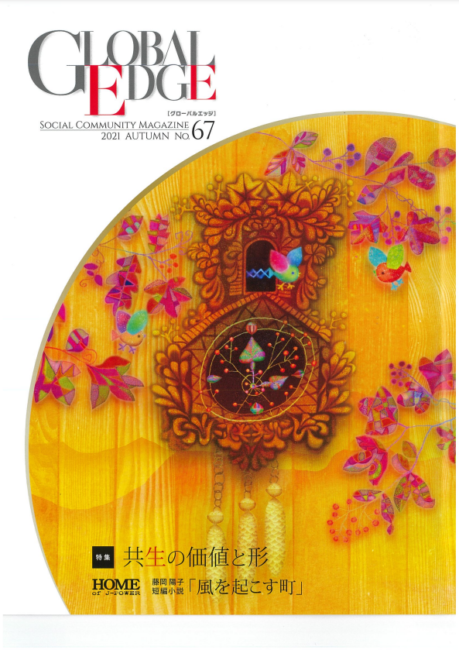 GLOBAL EDGE is J-POWER's PR magazine, in which articles and papers are contributed by experts, addresses certain themes that are the subject of the special feature each issue. It also introduces the attractions of areas surrounding power plant sites.
The latest issue No.67 for October featured an interview with President Ishikawa in the "New Century of the Craftsman" section published in October 2021.
It is titled "New Creativity with Wire Mesh Manufacturing Technology".
ISHIKAWA WIRE NETTING Co. Ltd. was founded in 1992. Since then, we have existed as a manufacturer of a wide variety of wire mesh, from industrial filters to perforated metal with sophisticated designs.
In this four-page article, the reader is introduced to Ishikawa Wire Mesh's history, its new product development through its collaboration between industry, academia and government, and the secret story behind the development of the world's first Wire Mesh Origami [Fabric Metals ORIAMI]®, born from the playful spirit of craftsmen.
It describes in detail the many wire mesh products that ISHIKAWA WIRE NETTING Co.,Ltd handles and the wire mesh manufacturing process at the factory.
You can view the Web edition of GLOBAL EDGE.
Click here for the article on ISHIKAWA WIRE NETTING Co.,Ltd >>
https://www.jpower.co.jp/ge/67/takumi/
ISHIKAWA WIRE NETTING Co.,Ltd shall continue to strive to make a meaningful contribution to a wide variety of industries. We look forward to your support moving forward.