ISHIKAWA WIRE NETTING Co.,Ltd will exhibit at the Infection Control Zone of the 1st "Processed Food Expo" from November 17 (Wed.) to November 19 (Fri.), 2021 at Index Osaka.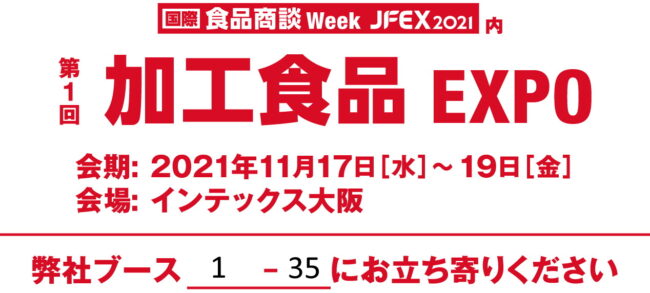 The "Processed Food Expo" is an exhibition of all kinds of products related to processed foods, including processed foods, raw materials for food processing, and food packaging.
ISHIKAWA WIRE NETTING Co.,Ltd is a manufacturer of wire mesh, so we do not handle food products. However, will be exhibiting products effective for infection control.
We will be exhibiting copper wire mesh sheets and processed copper wire mesh products. These products are effective for infection control because copper is an anti-viral substance.
The antibacterial properties of copper have been known for a long time, but recently it has been discovered that copper also has the ability to kill bacteria.
Through this event, we hope that people can learn about the use cases of copper products.
We have set up a mask distribution counter at the venue, and all participants will have their body temperature measured by thermography, etc. We are taking all possible measures to prevent infection.
Our's booth is located at "1-35", Index Osaka Hall 3. We look forward to seeing you there.
Outline of the 5th "Japanese Food" Export Expo
Date: November 17 (Wed.) - 19 (Fri.), 2021, 10:00 - 17:00
Place: Index Osaka
Direct bus service from JR Osaka Station will be available every 5~10 minutes during the exhibition period.
9 minutes walk from Cosmosquare Station (Circular bus to the West Gate is available)
8-minute walk from Trade Center-mae Station
About 5 minutes walk from Nakafuto Station
Ishikawa Wire Mesh Booth: 1-35
Official Website:
https://www.jpfood.jp/