ISHIKAWA WIRE NETTING Co., Ltd., is a specialty maker of wire netting and carries all kinds of products made from wire netting.
We mobilized our know-how of wire netting and the superior techniques of our artisans and, in 2015, developed Wire Mesh Origami [Fabric Metals ORIAMI®], our first BtoC product.
Since then, the ingenuity of our materials has been praised by ordinary consumers, of course. It has also been praised by creators, who have regularly used our materials in creating their works.
Also, the pure copper in ORIAMI has antibacterial and antiviral properties. And these properties were reported as news. With this reportage as a start, we continue what we are doing, developing original products such as a mask into which we insert a pure copper sheet.
However, due to the effects of the coronavirus crisis, exhibitions have been discontinued. Thus, we lost an opportunity to have more people know about our products.
Sales at exhibitions account for 50% of our total proceeds. Thus, from the standpoint of proceeds, we are struggling very much.
Therefore, we will participate in the crowdfunding platform CAMPFIRE to have more people know about ORIAMI.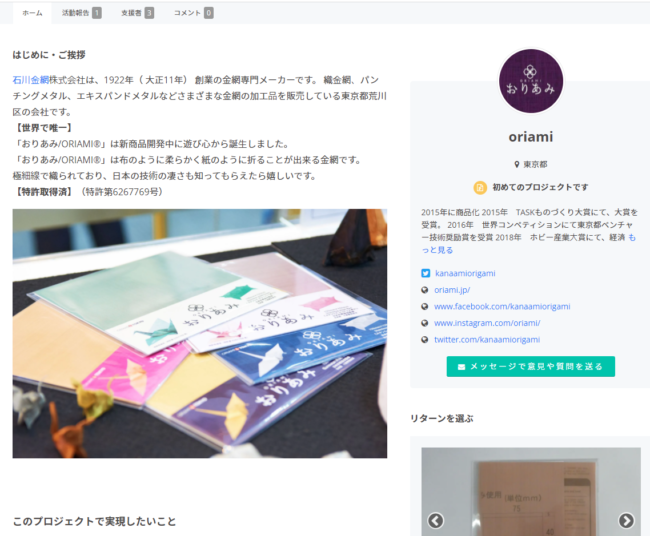 The Webpage of CAMPFIRE ISHIKAWA WIRE NETTING Co., Ltd.
We are offering items, such as ORIAMI mask kits and ORIAMI folded cranes, to persons who assist us. These items come with ORIAMI and diagrams on how to fold the ORIAMI easily.
Return merchandise is on display at BOOSTER STUDIO on the first floor of Shibuya Parco. By all means, please pick up the real things with your hands and ascertain their high-quality texture and the greatness of the technique by which we weave ultrafine wires.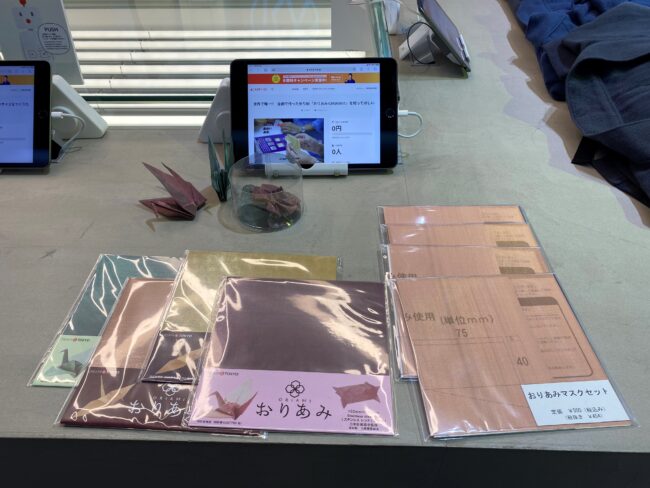 We have a display at BOOSTER STUDIO on the first floor of Shibuya Parco.
If you wish to assist us, please definitely look at our CAMPFIRE page.
The crowdfunding period will last until October 31st. >>
https://camp-fire.jp/projects/453609/preview?token=1kh1y6il
Because it is this kind of time, we enjoy creating works and want to help you lead a spiritually rich life. Thank you for your continued support.