The International Medical and Elderly Care Expo (Medical Japan) will be held at INTEX Osaka between 24th February (Wednesday) 2021 and 26th February (Friday) 2021.

Medical Japan is an exhibition group that covers themes such as medical treatment, elderly care, pharmaceuticals, and infectious disease control.
On this occasion 450 companies will come together to showcase a variety of products and services, including 140 companies exhibiting for the first time.
As part of Medical Japan's Infectious Disease Control Expo, Ishikawa Wire Netting Co.,Ltd will exhibit its Wire Mesh Origami [Fabric Metals ORIAMI]®, as well as a prototype of its new mask, currently under development.
"ORIAMI" copper is 99.9% pure, and is attracting attention for its anti-bacterial and anti-viral properties.
Ishikawa Wire Netting Co., Ltd is currently developing its ORIAMI 29 mask, containing ORIAMI copper. We intend to unveil a prototype at the exhibition.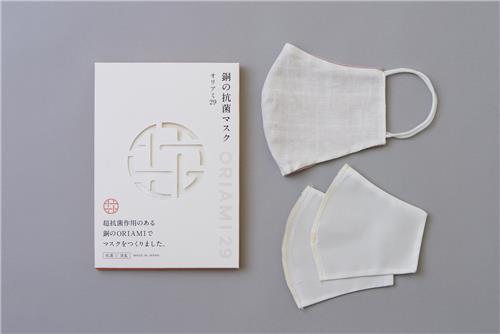 All possible precautions will be taken against infection. Please make sure to come to the exhibition.
■ International Medical and Elderly Care Expo (Medical Japan) Osaka Show Overview
Dates: 24th February (Wednesday) – 26th February (Friday) 10 am – 5 pm
Venue: INTEX Osaka 〒559-0034 Nankokita 1-5-102, Suminoe Ward, Osaka
Around a 9-minute walk from Cosmosquare Station (there is a circular bus to the west gate)
Around an 8-minute walk from Trade Center-mae Station
Around a 5-minute walk from Nakafuto Station
Website:
https://www.medical-jpn.jp/ja-jp.html