Preventive measures against infectious diseases, where the measures use Wire Mesh Origami [Fabric Metals ORIAMI]®, were introduced on a page in the Nikkan Kogyo Shimbun.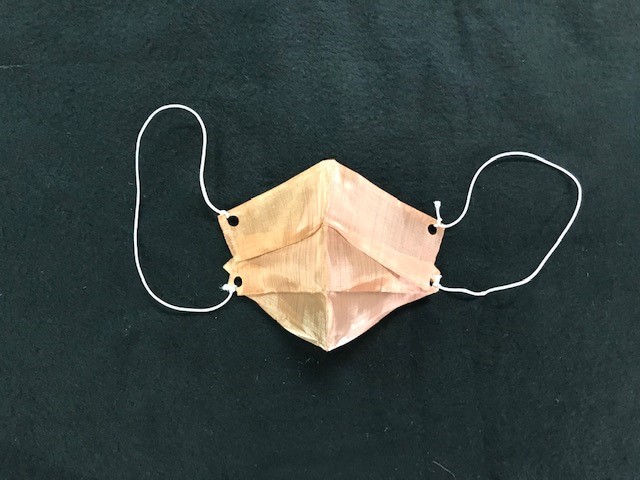 Developed by Ishikawa Wire Netting, a specialty maker of wire netting, "ORIAMI" is the world's first origami that is made from wire netting.
This time, due to the spread of infection from the novel coronavirus, the antibacterial and antiviral effects of genuine copper in the "ORIAMI", which is made from 99.9% copper, were introduced even in the Nikkan Kogyo Shimbun. The antibacterial effects of copper have been well known from before.
Also, based upon the latest research, the novel coronavirus can cause infections by adhering itself to physical objects, but it is understood that the survival time of the coronavirus on copper, in comparison to stainless steel and plastics, is overwhelmingly short.
The special qualities of copper are noticed, so the applications of "ORIAMI" to prevent infectious diseases are broadening. For example, "ORIAMI" is used in masks and affixed to spots that are widely used, such as handrails and switches. Please take a look at this press release about the effectiveness of copper and the applications for "ORIAMI". >>
https://kyodonewsprwire.jp/release/202006170987
In June, in response to demands for the production of more diverse antibacterial goods, we started to sell a larger size of 18 square cm.
For you to live a safe and secure life in an age with the coronavirus, please definitely make use of "ORIAMI".
You can purchase "ORIAMI" from yahoo!shopping. >>
https://store.shopping.yahoo.co.jp/ikk-oriami/28bea6c9ca.html
Please take a look here regarding the article in the Nikkan Shimbun. >>
click here.
To the people at Nikkan Kogyo Shimbun, thank you very much for the introduction.