We recently released a guide on how to create face-masks using "Pure Copper," one of the varieties of materials available as part of the BtoC "ORIAMI" product range from ISHIKAWA WIRE NETTING Co. Ltd.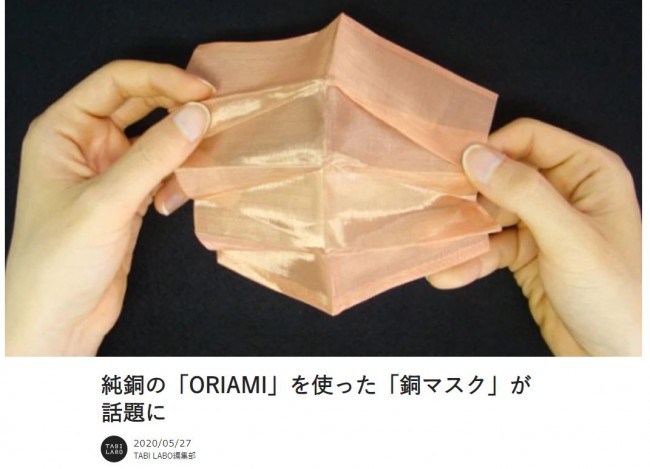 Click here to see details on how to make the mask
   >>
The folding instructions for Oriami's pure copper antimicrobial copper mask are open to the public!
This article has been made available on TABI LABO.
TABI LABO is an online new outlet that covers a broad range of topics, ranging from culture and lifestyle through to technology.
This particular article featured information on how to use "ORIAMI" face-masks.
As a result of concerns over a second-wave of COVID-19, there is a search underway for new and innovative approaches to our lifestyles that could help restore economic activities while also avoiding risks to people's health.
The goal for us here at ISHIKAWA WIRE NETTING Co. Ltd. is to find ways in which we can contribute towards a safe and secure society for all by coming up with ideas for antimicrobial products made using ORIAMI.
We recently released the pure-copper ORIAMI in a new and larger 18 cm × 18 cm size that should allow the creation of a wide range of antimicrobial products.
"ORIAMI" can be purchased from YAHOO! Shopping >>
Click here