Inaba Yoshiko's work will be exhibited at exhibition "Hygge" which will be held at "Conde House Nagoya".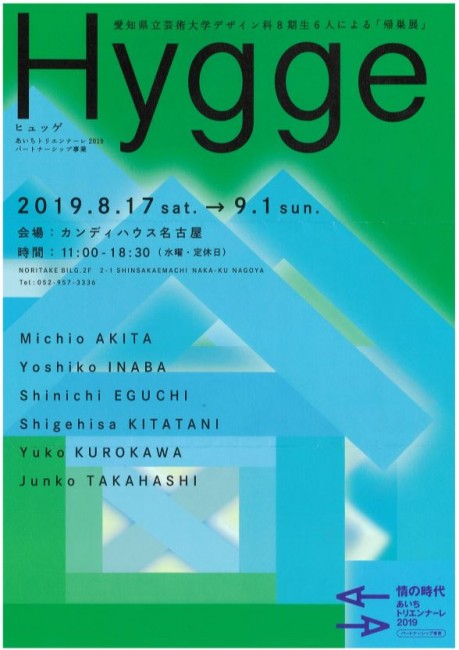 "Hygge" is a "homecoming exhibition" held by six graduates of Aichi University of the Arts who majored in design and were part of the eighth class since the university's founding.
Hygge means "a comfortable atmosphere born out of human interaction" in Danish and it has the meaning of respecting individual lifestyles and living in a simple and minimalist and warm atmosphere.
It is a lifestyle originating from Denmark, but it was one of the strongest candidates in the 2016 British buzzword of the year and it is gaining attraction worldwide.
This exhibition also exhibits works with the theme of "comfortable environment" in the forms of paintings, photos and other arts by artists.
Among this, Inaba Yoshiko's work which uses ORIAMI in her artistic creations as she supports the Wire Mesh Origami [Fabric Metals ORIAMI]® will be exhibited.
Please enjoy the worldview which combines the natural colors filled with life and the uniquely metallic materials.
Please look here for further
information.
■ "Hygge"
Date: August 17th, 2019 (Saturday) ~ September 19th, 2019 (Sunday)
11:00~18:30 (closed on Wednesdays)
Noritakesakae-bldg 2F, 2-1 Shinsakaemachi, Naka-ku, Nagoya, 460-0004
Tel: 052-957-3336
3 minutes walk from Sakae Station which can be accessed using Higashiyama Line or Meitetsu Line. 3 minutes walk from Sakaemachi Station which can be accessed using the Nagoya metro Seto Line.
Official website :
https://www.condehouse.co.jp/shop/nagoya/