ISHIKAWA WIRE NETTING Co.,Ltd will be exhibiting at "The 43rd JAPAN HOBBY SHOW 2019" to be held at Tokyo Big Sight, West Hall, from 2019.04.25 (Thursday) to 2019.04.27 (Saturday).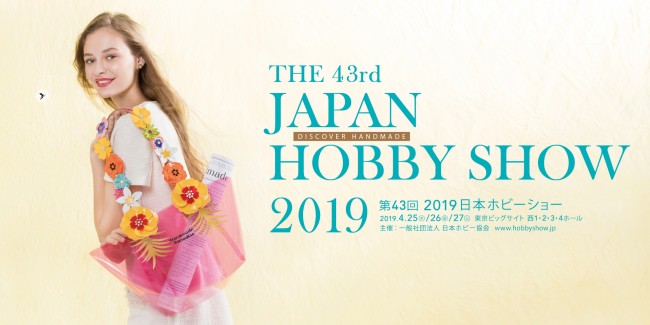 The Hobby Show is Japan's largest event where you can see, buy, and experience handmade works. Companies involved in handicraft and craftwork will gather and hold over 100 workshops during the event.
ISHIKAWA WIRE NETTING Co.,Ltd has always exhibited at this event, and as before, there will be many professional craftspeople and artists present to create an enthusiastic, highly charged atmosphere. During the upcoming event, we will be displaying and selling Wire Mesh Origami "Fabric Metals ORIAMI", as well as holding workshops.
The booth for ISHIKAWA WIRE NETTING Co.,Ltd will be "Avenue ONLY ONE [A-16]." (Workshops will be held at the workshop booths.)
Our booth will also feature a variety of products that will excite the sensibility of every craftsperson. During the workshops, you can personally experience creating works that bring out the various possibilities of the material of "ORIAMI".
We look forward to seeing you there!
The 43rd JAPAN HOBBY SHOW 2019
------------------------------------------
Event information:
Date/Time:
2019.04.25 (Thursday) to 2019.04.27 (Saturday) 10:00~18:00 *Event ends at 17:00 on the final day
Venue:
Tokyo International Exhibition Center (Tokyo Big Sight), West Exhibition Hall, West Halls 1, 2, 3, 4
ISHIKAWA WIRE NETTING Co.,Ltd Booth:
Avenue ONLY ONE [A-16] (Workshops will be held at the workshop booths)
Rinkai Line [Kokusaitenjijo Station] Around 7-minute walk
Yurikamome [Tokyo Big Sight Station] Around 3-minute walk
URL:
https://hobbyshow.jp/
Concurrent Events:
The 12th Hobby Cooking Fair 2019 / Handmade MAKERS' 2019