In the May 20th, 2018 edition of The Mainichi Newspapers, ISHIKAWA WIRE NETTING Co.,Ltd was referred to in the "A Look Around the World Economy" corner.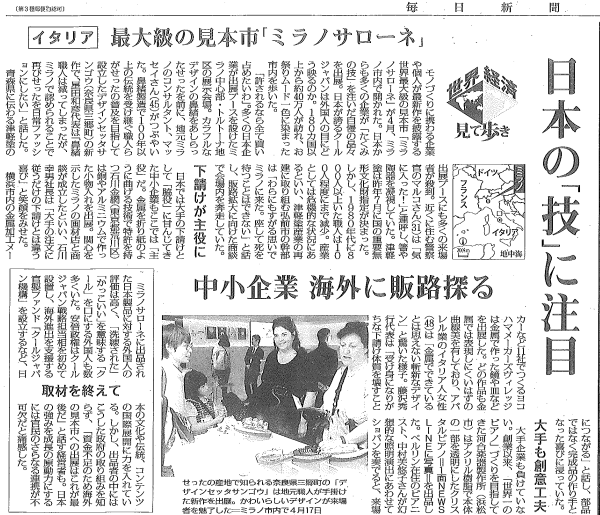 The article covered the "Milan Furniture Fair 2018," held in Milan, Italy, from Tuesday, April 17th to Sunday 22nd.
Continuing on from last year, at the "Japan Design Week" held there, ISHIKAWA WIRE NETTING Co.,Ltd exhibited Wire Mesh Origami [Fabric Metals ORIAMI] and Woven together with different materials [KANAORI].
You can see about that time here.
>>
We exhibited at the 2018 Milan Furniture Fair design festival.
The article also touches upon the high reputation of Japanese products among foreigners, as well as the Japanese government's Cool Japan strategy.
>>
Please see the details of posted articles from here.
In truth, the response from those who came to our booth during the exhibition was greater than we expected and left us feeling very satisfied.
ISHIKAWA WIRE NETTING Co.,Ltd will continue to spread "ORIAMI" and "KANAORI," born from Japanese craftsmanship techniques, throughout the world.