On Saturday, June 23, and Sunday, June 24, our Midori-Kai 2018 Summer Special Sale Meeting "Wire Mesh Origami [Fabric Metals ORIAMI]" included a sales exhibition and experiential classes related to wire gauze origami.
At Midori-Kai, every year we run preferential sales events for employees of associated companies and their family members.
These great events include sales exhibitions, food corners, experiential classes and other exciting attractions.
This year, the Ishikawa Wire Mesh company participated for the first time.
"Would anyone really be interested in visiting our exhibition?" Such uneasy sentiments were evident at the beginning, but by the end more attendees than initially envisioned had visited.
The experiential learning section was particularly popular.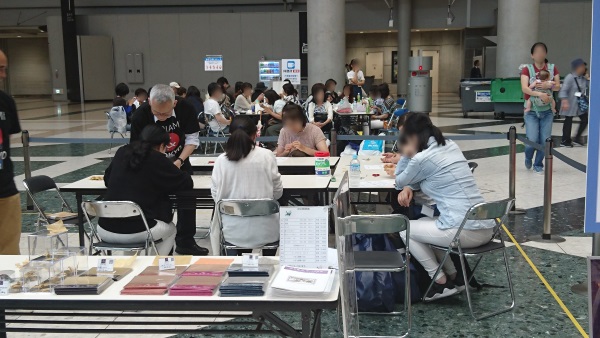 Although the level of the work was quite challenging, it was remarkable to see a place of such silent concentration. Everyone seemed keen on producing the best work possible.
Many attendees also made purchases at the "ORIAMI" sales exhibition. With its delicately formed accessories, "ORIAMI" is a company that shows the infinite possibilities of creation from simple things like origami.
By all means, please try your hand at creating something special from the materials provided by "ORIAMI".