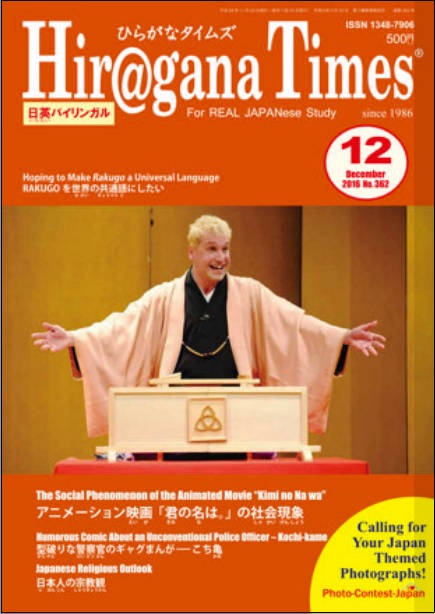 The
Hiragana Times
was first published in 1986, subscribed by people from over 100 countries. It is a bilingual Japanese-English town magazine that introduces Japanese culture. The English paragraphs in the magazine contain a Japanese translation with phonetic letters, which enables people who are studying Japanese to read the articles without using a dictionary.
Hiragana Times
is adopted as a teaching material at several overseas universities.
Since the magazine is a good English learning material, there has been an increase in subscribers. Articles published in the magazine also occasionally appear as English problems in college entrances exams.
" ORIAMI" was introduced in the "Business Frontier" section. The article started with an introduction of origami, which is an ancient Japanese traditional culture, continued with the development story of the ORIAMI, and its future views and goals for the product.
The article explains the origami culture and the characteristics of ORIAMI in an understandable manner.
Hiragana Times
can be purchased at: nationwide bookstores, Apple News stand, Google Play, and the Fuji Magazine Service. (500 yen/ copy in Japan).
Please take a look at the magazine! It can be useful when introducing Japanese cultures to foreigners.