J-GoodTech is a business matching site operated by the independent administrative institution SME Support Japan,
which promotes matching small businesses with other businesses both domestic and foreign.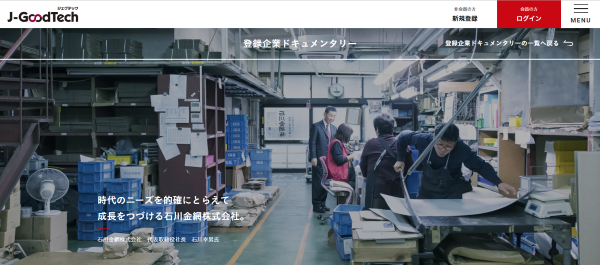 An interview with our company president, Yukio Ishikawa, has been published, on the "Registered Business Documentary" corner of their website.
It is an article woven with the history of ISHIKAWA WIRE NETTING Co., Ltd. adapting to change with the ages,
from losing factories in disasters, such as the Great Tokyo Earthquake and the Bombing of Tokyo, to keeping up with the high economic growth period with wire mesh for strainers used in been jam production, to our current manufacturing of our primary product, wire mesh for extruding machines.
Development stories from Wire Mesh Origami [Fabric Metals ORIAMI] and Woven together with different meterials [KANAORI] were also published.
See here for details on the article:
ISHIKAWA WIRE NETTING Co., Ltd.: Judging the Needs of the Age for Continued Growth.
Make sure to read about our history of growth through the ages.